Discover the Woodland Garden innovation, a solution for a more greener and cost-effective buk dispenser.
Here's how to install the eco-responsible "Woodland Garden" silo and its bulk product refill in a department.
+ safe and hygienic (product never touched or decanted. In its original bag)
+ economical (less product loss)
+ eco-responsible (no cleaning of the silo in a dishwasher, reduction of plastic, wood)
IT'S VERY EASY AND RESTOCKING TAKES LESS THAN A MINUTE!
1. Place the silo on its installation stand and open it
2. Remove the clip, close it over the sachet and open the sachet (cut the bottom of the sachet with clean scissors, leaving 2 cm)
3. Insert the sachet into the dispenser (close the arms and safety latch and adjust the height of the clips if necessary)
4. Fix the silo and help yourself !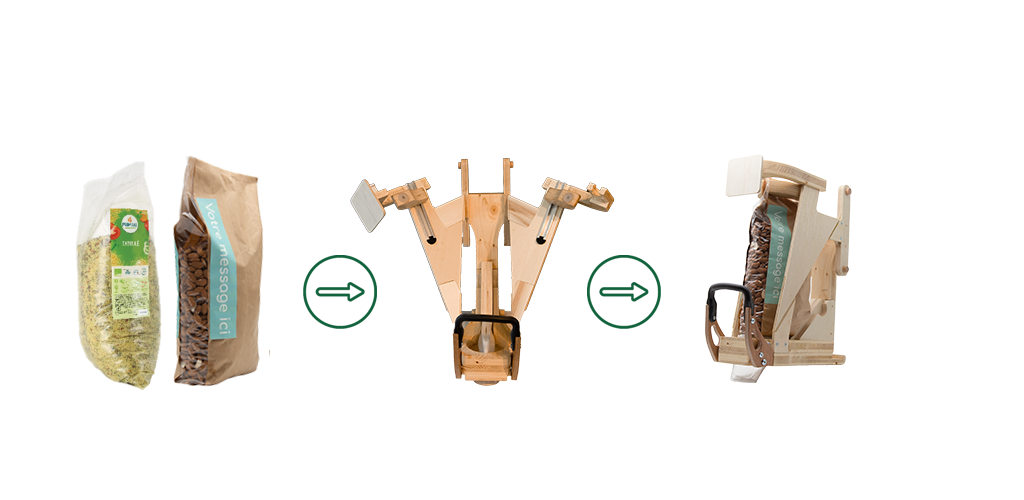 The benefits of our hoppers
Plastic reduction
• Wooden furniture and silo from France
• Recyclable kraft or PE bag
No waste of water and detergent
Recyclable sachets
Ability to find your favorite brands/ flours
Direct communication on the bag
+ economical & deployable
No industrial investment (universal bags)
No maintenance
No cost of cleaning
No loss of product
Product never touched or transferred
Cleanliness of furniture and silos
Optimal conservation (protection against moisture, insects)
Perfect traceability (batch number on the bag, impossible to mix products)